West Side Story Review from East Hawai`i


As a musical theatre geek I had the honor of performing in several shows including a stage production of West Side Story in 2004. Here's a picture of the Jets and me in the opening number (center with the red shirt).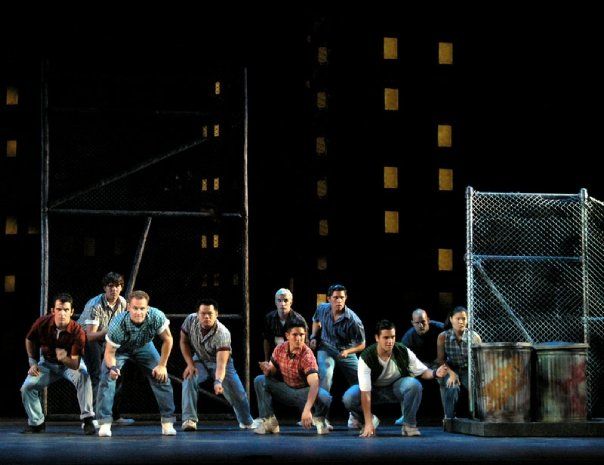 The new Steven Spielberg movie premiered last Thursday, so of course I had to see it. Based on my past experience with the show, here's my two cents:
The Dancing
Jerome Robbins original choreography for the original Broadway production is brilliantly iconic. I was worried about the new choreography, but pleasantly surprised that I liked it. The new movie embraced the spirit of the original movements, combining technical dance with teenage angst that was perfect for the storytelling. Although I wish there was more dancing, I understand how some things on stage can't translate to the screen.
The Music
One of my pet peeves with movie musicals is how they cut songs from the stage version and replace them with extra dialogue. I was thrilled that they kept most of the original music. Like the previous movie, the songs were in a different order and were sung by different characters, but overall I think it worked for this version.
The Acting
My MVP by far was Mike Faist who played Riff. Known for originating the role of Connor in the original Broadway production of Dear Evan Hansen, he was completely unrecognizable in this role...and it wasn't just his hair. During the whole movie I kept thinking, "this guy is good", and it wasn't until the end credits that I realized who the actor was. Brilliant!
Final Thoughts…
I liked Tony & Riff's expanded backstory.
I wish "Somewhere" was done more like the stage version.
The individual Jet names and personalities got lost in the ensemble. In fact, during one screening, the subtitles were on and referred to the characters as Jet 1, Jet 2, versus Action, A-Rab, etc.
The final monologue fell flat and rushed.
Well, that's my two cents after watching it two times. I'm planning on going back at least one more time...see you at the rumble!