Tiny Plants for a Big Island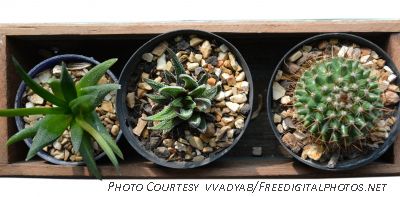 Seems that along with the Tiny House movement (that we will explore next week) has come a whole Tiny Other Stuff movement. Fairy gardens. Tiny cooking videos. Tiny plants. Or succulents.
Succulents actually fit into today's home fashion for a number of reasons.
They are low maintenance for people who are busy or just don't have green thumbs.
They stay neat and tidy in the pot they're given which works well for the minimalist look and lifestyle.
But also, they can be put in a tiny pot and stay tiny for a long time for those Tiny Enthusiasts.
(I've even seen them put on the refrigerator as a magnet).
The Big Island is seeing its own increased interest in the cute little plants. A browse through the nurseries or on Craigslist will reveal a prevalence of these little beauties. They're pretty affordable, too.
For those interested, there is a succulent wreath workshop being offered in Kona on November 12. It's being taught by the ELEPH Succulent Boutique and being held at the Daylight Mind Coffee Company.
Here's a video of a store called The Sill in New York that specializes in tiny succulents. Fun to watch and might make you want some adorable house plants of your own.
Come back next week when we talk about Tiny House living with Tiny House laws on the Big Island of Hawaii.