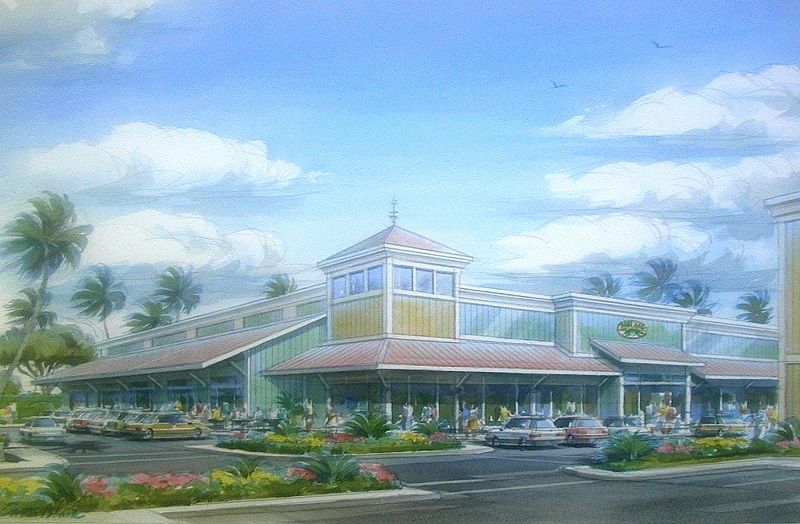 Puna Kai MarketPlace Malama Market Pahoa rendering. Sullivan Family courtesy photo.
As my mom, Denise Nakanishi, pointed out in her Third Quarter Sales Report, after the 2006 heyday, Pahoa Town and the surrounding area took a pretty big one-two punch. First with the housing bubble bursting and then with the lava flow threat of 2014/15.
Because of the latter, the southeastern region of the Big Island, that includes neighborhoods like Leilani Estates, Hawaiian Shores Recreational Estates, Nanawale and Kapoho, have all had a tough time bouncing back to pre-2006 levels the way the rest of the island has.
With the lava seemingly no longer a threat and housing sales back to the robust pace, that region may be worth a second look.
[Stage whisper: It might be the last place to still get a good deal].
And even more encouraging is the fact that there is a planned shopping center in the works.
According to the Big Island News Now, the Puna Kai Center (just down the street from the current shopping center) will include a half-acre of park land with a total lease area of just over 103,000 square feet. And the Malama Market plans to triple its current size, taking up 35,000 square feet of space in the new shopping center, slated to open in 2018.
This is good news for area residents and a wonderful signal to people considering buying in Puna. Hele on!
See our listing in Hawaiian Shores Rec. A great value.