Meet the Cutest Home Buyers Ever
Meet John Hidichuck Nakayama, his wife Jayce and their adorable son, Tyler. They are recent home buyers in Hilo Hillside and I had the pleasure of assisting them in that purchase. I love that part about my job; helping people achieve the dream of home-ownership, whether it be their first time or a relocation or a step up or down from their current home. I love it all.
Let's talk about home-ownership for a minute. For some, the prospect seems unattainable. For others, it seems like the only way to go. From my point of view, if you are planning to stay in a particular area for more than 2 years, owning your own home makes financial sense. You almost always have to pay to live somewhere. Why pay a landlord's mortgage when you could be paying your own and have all the perks of stability and equity?
But let's circle back to those people who feel home ownership is unattainable. The biggest hurdle is usually the down payment, right? I mean, like I said before, you usually have to pay something to live somewhere so the mortgage payment is the easy part. But scraping together the traditional 20% down, especially in our market, can be daunting.
I am here to tell you that there are magical loan programs out there for all kinds of buyers. First time buyers tend to have the greatest trouble so most easy-entry loan programs are geared toward them like the USDA loans that have 0% down options. These loans are designed for rural areas so homes in the city limits are out but our rural East Hawaii has lots of other options that qualify.
Then there are programs that aren't necessarily meant for first time home buyers but have lower barriers to entry. John and his family were able to make use of the VA loan since he is a veteran. VA loans tend to have low interest and almost always offer 0% down. This was not the Hidichuck Nakayama's first house but not having to make a down payment made it easier to get into a little bit more home than they otherwise would have.
Guild Mortgage also has a 1% down program (3% down minus a 2% grant) that is not restricted to first time buyers but is designed for lower income buyers. Denise Ka'ai, loan officer at Guild Mortgage, explains that qualifying criteria is a combination of the address of the subject property and the income of the buyer. To learn more about it, contact Denise at Guild Mortgage, Hilo. Don't delay, though. The program is set to expire at the end of June.
There has been the threat of rising interest rates for a while and it is coming. Every time the interest rates rise, it procludes a group of home buyers who would have otherwise been able to get into the home of their dreams. Higher interest can put payments out of reach for some. I hate to see that happen. I want everyone to have a house to love.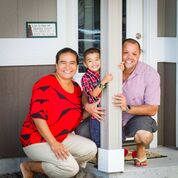 If you are thinking about buying a home....a first one, bigger one, one in a new location....don't hesitate. Let me help you find that house AND help you find the loan that can make it happen.
Photo Credit: Shari Streutker who does the photos for Team Nakanishi, including cute buyer photos.