When Ash joined our team, it didn't take long for me to realize we'd be buddies. Well, to be honest, Ash hasn't exactly told me we're buddies. But, whatever- I will proclaim that now:
"Ash! Thanks for being my buddy!"
I knew we'd be friends because we value very similar things: FOOD! And, the freedom to be a bit silly from time-to-time. Okay, maybe I'm more to blame for the silliness. But, Ash indulges me and never judges me- at least not noticeably- which I appreciate.
Ash is a diligent "social-media food-picture-poster"; I find myself drooling over his Facebook feed on the regular. You see, I moved back home to Hilo a couple years ago after living in Miami for about a decade. And, while I'm super happy to be home, man do I miss the restaurants! Luckily, Ash's hunger inducing posts encouraged me to stop "poo-poo-ing" our local food scene and get out and try new (and rediscover "old") things in little Hilo Town. In my mission to satisfy these foodie taste buds of mine, I've realized Hilo actually does have quite a robust food scene- especially for a small town.
Since I can't be the only one wondering where the heck to get something to eat around here- Ash and I have decided to share our food escapades with you. We will begin with a Hilo Town favorite, Liko Lehua.
Liko Lehua started as a small space on the side of Kaumana Drive and became famous for their fruit butters (lilikoi is my fav!). They opened their Pauahi St. location a few years ago (maybe more than a few - time flies!) and I'm so glad! It's become one of my favorite places in town. The food is consistently creative, equally delicious and the service is always excellent. The only thing I'm not super thrilled about is the ambiance. They've definitely made some improvements since the last establishment occupied the space; but, the dining room is very open and lacks the intimacy that would make the experience "over-the-top." (But, let's be real: I have very, very, high expectations.)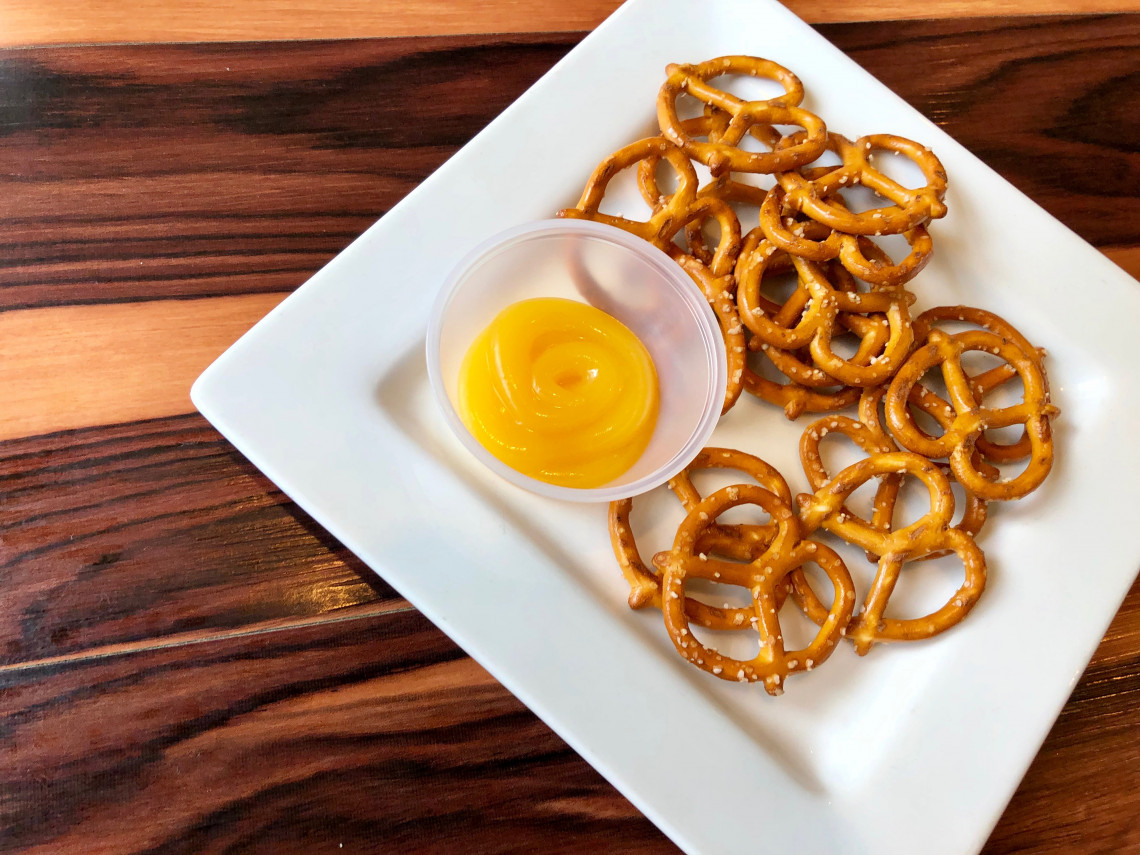 Okay, let's go back to focusing on the positive and talk service for a minute: I'm not one to easily award "good service accolades". I worked in fine dining for a good portion of my 20's and I'm a total "service snob". I don't understand why it's so hard to- at the very least- be friendly! I mean, we aaaare in the "Aloha state". But, many Hilo restaurants seem to forget about that detail. Fortunately, I HAVE NEVER HAD A BAD EXPERIENCE AT LIKO LEHUA. (Please don't turn me into a liar, Liko Lehua!) The staff is always friendly and patient with questions and special requests. (If you ask to switch romaine for kale, they don't make you feel like you've asked to sit on a thrown and be served out of a golden goblet.) The food is also pretty quick (perfect for lunch breaks) and THEY KEEP YOUR WATER FULL. (Hooooray!)
Alright, I digress. Let's talk about food!
First I'll tell you what I really wanted to order for lunch: fish & chips. And now I'll tell you what I really ordered: salad.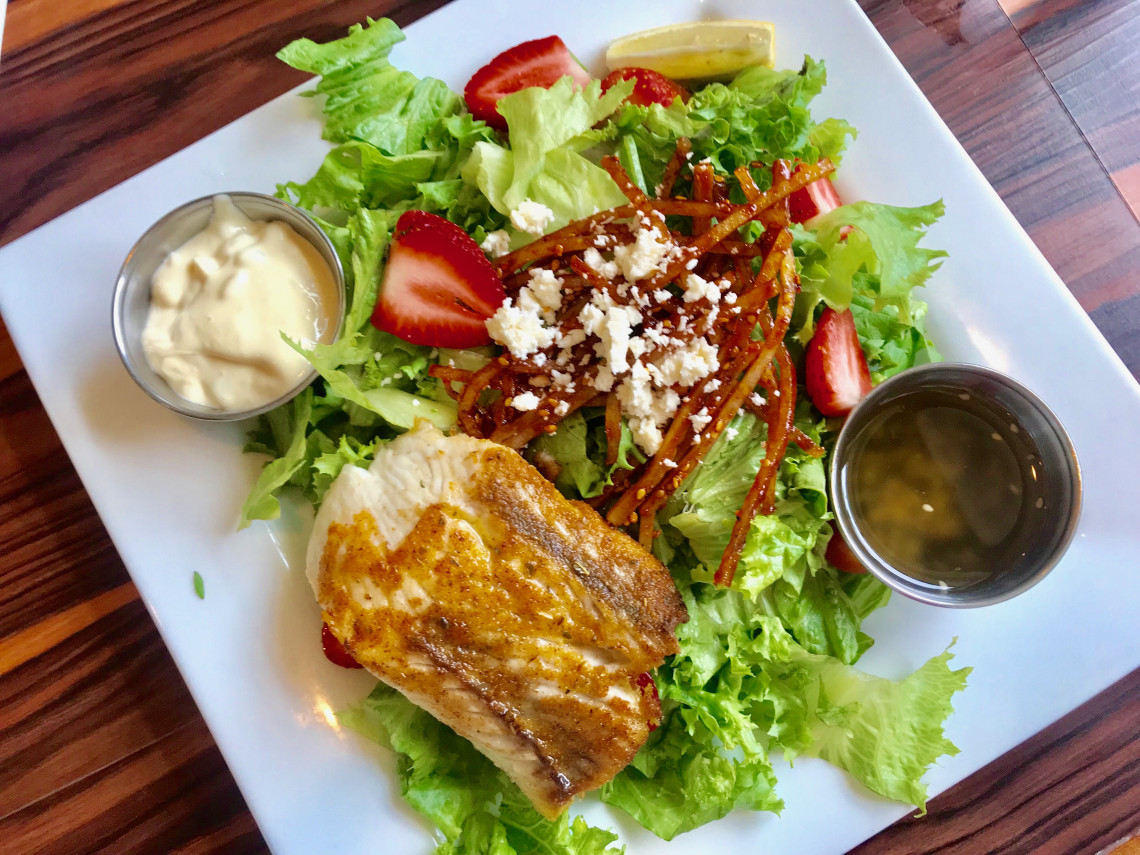 Yes, like most women, I'm trying to watch my figure so I ordered the Taegu and fresh catch salad: (Fresh catch, romaine lettuce, taegu, strawberries and feta served with oriental dressing). On this particular day, the fresh catch was Ono (or, Wahoo in English) and boy was it ono! (Ono also means yummy in English.) Taegu (if you're not familiar), is a Korean side dish or appetizer made of cod. It's a bit sweet, a bit spicy, sort of salty and pretty chewy; almost like fish jerky. I personally feel it's a perfect accompaniment to romaine lettuce. I made sure each bite of lettuce had a bit of the chewy taegu mixed in. I just love the crunchy/chewy/sweet/salty combo! I'm trying to think of a less cliché way to describe my feelings about this dish- but I can't. So, here goes: The Taegu and Fresh Catch salad is like a party in your mouth! And, I do enjoy a good party!
Speaking of parties, Liko Lehua has an excellent selection of handmade cocktails and beers (from local craft beers, good ole' domestic beers and of course, imports) which is relatively uncommon in Hilo. I wish more restaurants would catch onto this! (Fish pun not intended.) And, if you want a little something to munch on, appetizers are 50% off from 2-5pm. The chicken wing sampler, which includes boneless buffalo wings, lilikoi Hawaiian chili pepper wings and Korean wings, is always a big hit with my ohana.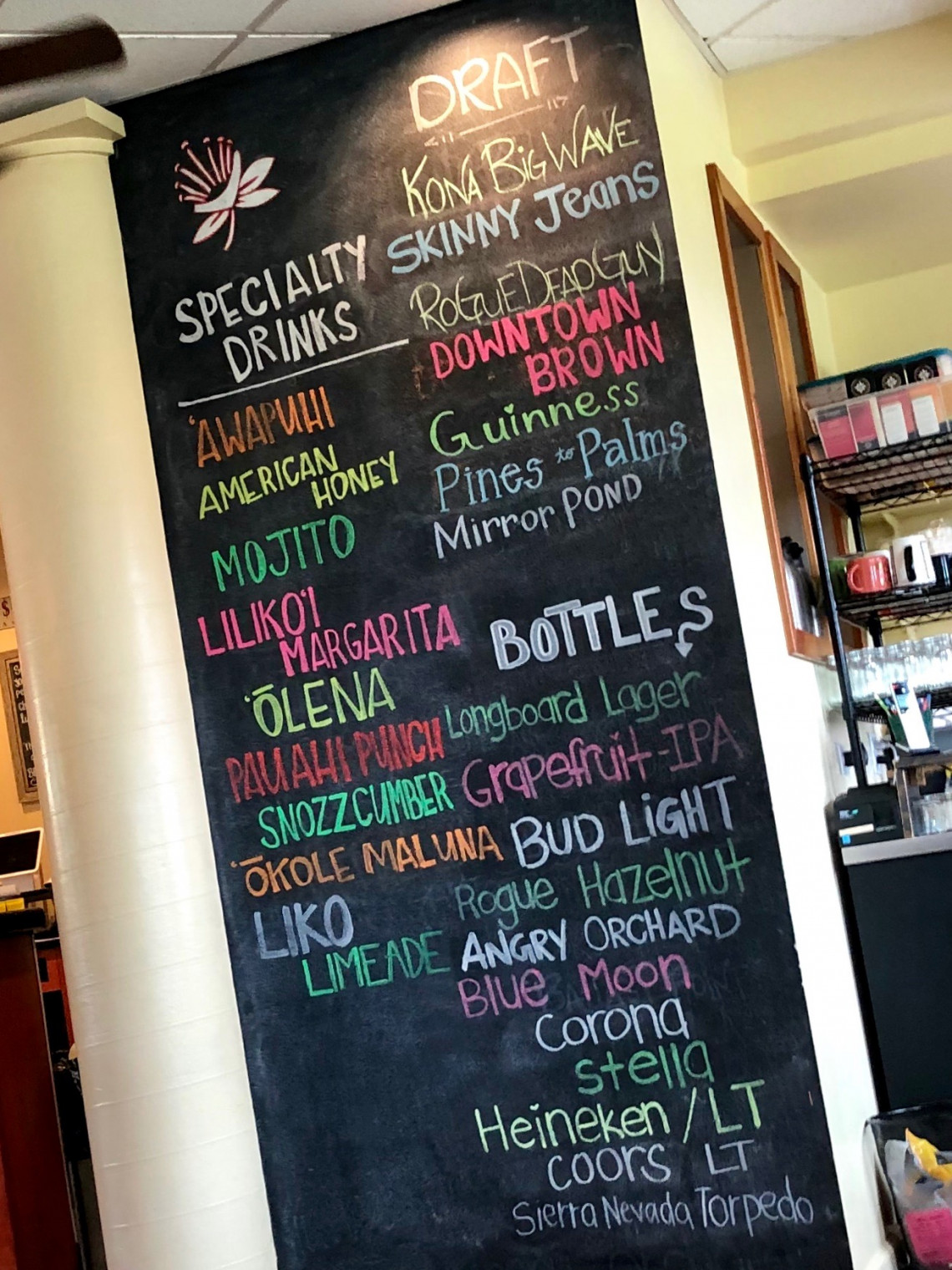 Okay, I think I've said enough - I'm going to "pass the mic" to Ash so he can tell you about his experience. (Oh yeah, in case you're wondering I didn't regret skipping the fish & chips.)
Aloha! It's Ash! I ate the Greek Pasta and Seared Ono. YUM! You could get the ono seared, medium, or well done. Since I like raw fish, I went with seared. But that's just a matter of personal taste :)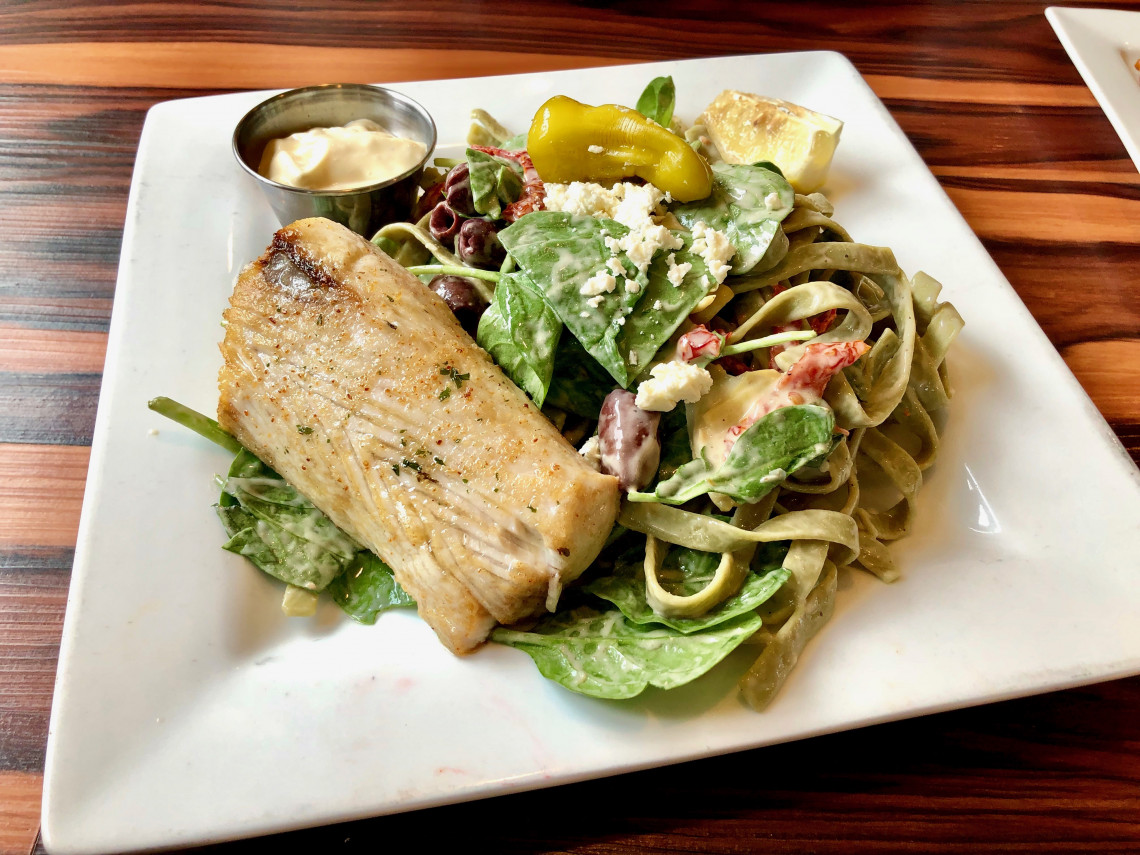 The spinach fettuccine was slippery and satisfying. It reminded me of the spinach linguine I make at home, but I'll save that for another blog. The kalamata olives gave it a pop of salt, and the sun- dried tomatoes with feta cheese grounded it with a savory note. The portion was very generous, and I really should have stopped halfway through and taken the leftovers home.
For dessert, Nui and I shared the French Toast "Fries". Get this...the "fries" are made from butter pound cake dipped in french toast batter, then fried and tossed in cocoa sugar. The fries were so hot, they instantly melted the vanilla ice cream I scooped on top. So, I worked fast and added the chocolate fudge and whipped cream. It got messy, (I'm messy eater by nature) but it was all worth it after that first bite.
This is way more sugar than I'm used to. But hey, you gotta indulge every now and then, right?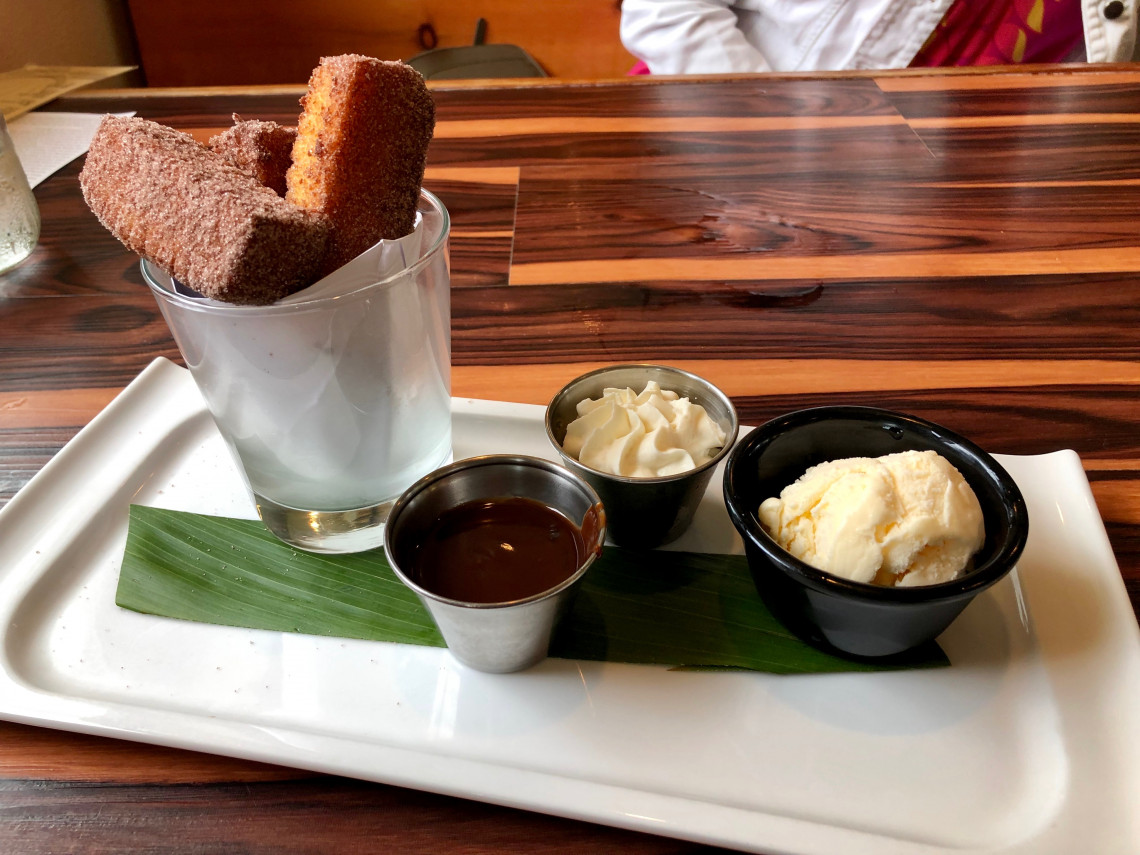 All-in-all we had a great time at Liko Lehua! Previous to this trip, we weren't aware of the "appetizer happy hour"; so, we'll definitely be back to take advantage! I hope you feel inclined to check it out too!