We've talked before about how much food product is imported to Hawaii. Around 85-90% arrives in the state for our consumption. It seems a bit extreme since we have excellent conditions for growing a variety of crops, most of which would satisfy the tastes of the modern population.
But even before the islands became populated by people from all over the world, native Hawaiians grew everything they needed here for centuries. Keep in mind, with the islands so isolated, the ancient Hawaiians could not benefit from trading with other regions (although it's suspected that they did have encounters with South America as is evidenced in the sweet potato).
Hawaiians when they migrated from Polynesia over 1000 years ago, brought with them a limited supply of subsistence crops that they could cultivate in the new land. One of them was the mighty breadfruit, or Ulu, as it is known in Hawaiian.
Breadfruit is touted throughout the internet like here and here for being a power food but it has its roots in being a staple food, high in fiber, nutrients and carbs. It gets its name from the bread-like texture and flavor when it's cooked but it is an easy stand in for potatoes.
There are efforts being made to expand the farming of breadfruit throughout the southern hemisphere that can easily support the trees as a way to alleviate hunger in these regions that include Central and South America, Africa and South Asia. According to Global Breadfruit, a single tree can sustain a family of four for 50 years.
Have you seen an Ulu tree? They are beautiful; always perfectly formed lollypop shapes. They look lovelyl in any landscaping. Plus they stay relatively small so a tree could be added to your yard for aesthetics alone. But just think of the food it would provide.
If you've never tried breadfruit, I will tell you that despite its very mild flavor, it's an acquired taste but the adjustment curve is very slight and it's nothing to fear. Ulu is very abundant here in Hilo and easy to obtain at stores and farmers markets. Try this recipe if you're a beginner.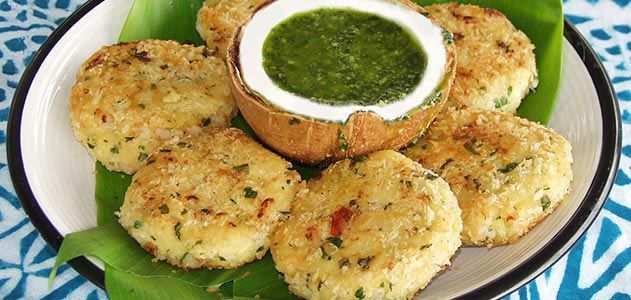 Photo of breadfruit shrimp cakes (see recipe link) from Smithsonian.com
Cover Photo by Malcom Manners/flickr