Have you tried mushrooms grown right here on the east side of the Big Island? They are like no other mushrooms I've ever had. They have a meaty almost rubbery (in a good way) texture and the flavor is so mild and perfect that the Hilo Bay Cafe used to make a mushroom poke didn't make you miss the ahi at all.
The grower and supplier of such delectable treats is aptly called Hamakua Mushrooms (owned by Bob and Janice Sanga) and is located just mauka of the Train Museum in Laupahoehoe (about 25 miles north of Hilo). At one time they offered tours but sadly, according to their website, they ended them in June of this year.
The main variety of mushroom that they grow is called Alii. It is about 6" long and is mostly stem and very little cap. It is also known as the King Oyster Mushroom. They are grown in bottles which is a sustainable environmentally friendly method developed in Japan.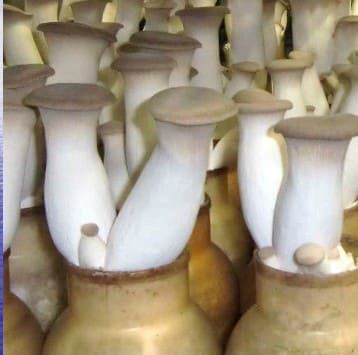 Photo taken from alibaba site selling the bottles.
I wasn't able to determine where the Hamakua Mushrooms are being sold but I have run into them in various restaurants on the Big Island. I mentioned mushroom poke which was delicious but I haven't seen them on the menu in a while.
I have, however run into them at Uncle George's Lounge at the Volcano House very recently. They are served inside a grilled cheese sandwich accompanied by a home made tomato soup (see cover photo). Absolutely perfect combination.
On one of the impending cold, rainy Hilo days, I encourage you to head up the mountain and indulge in a Hamakua Mushroom grilled cheese and soup. Comfort food.