Every Picture Tells a Story
Note to agent: "Sorry the house isn't exactly ready for photos. My kids had 2 soccer games and 3 parties to attend over the weekend. Too much to do! I'm sure the buyers will understand. After all, we are selling the house, not the stuff, right? "
Or, the alternative, "This is a short sale so why should I care how the photos look? I'm not making anything."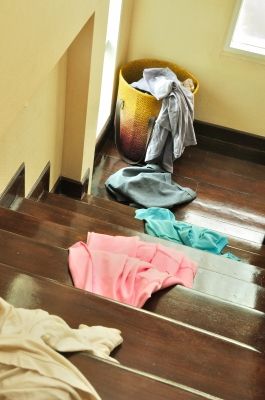 Photo courtesy freedigitalphotos.net/varandah
Response to seller: "Dear Mr. & Mrs. Seller, Here's the thing. If you don't care about how your home looks, why should I? I'll just take the photos with the toilet seats up and junk piled everywhere; you know, kind of an " HGTV Gone Wild" photo album. But before I broadcast your son's BBDs and your dirty dishes world-wide, there are a few things you'll want to consider. The market is hugely competitive. Your house should look like a magazine because, trust me, the competition's will.
"Over 90% (almost all) buyers first select the homes they want to see online. They enlarge photos and study each one. They learn the smallest details. So the question is this; how are they going to study details if they can't see them?
"Dear Sellers, you are right about one thing. The buyer will understand. They'll understand that you are unrealistic and unmotivated about selling. They'll assume distress or problems with the property. They'll start looking for problems. For instance, you know that small stain on the kitchen ceiling? I know you repaired the leak; the buyer doesn't. I can note the repair in the listing but even if the buyer reads it, this small issue will set the tone for showings.
"We want excited buyers! Instead, your buyers will be trying to figure out what else you couldn't afford to fix…and how low you will go. Trust me, it's not easy to talk to you this way because we are such good friends. Truth is, I might even hire a professional photographer if the house was really ready.
"Remember me telling you about a home I listed after another agent had it for a year with rare showings and no offers. We got the home ready, took professional photos and received 2 offers over full price in a week! This isn't the only time this has happened. Sometimes small investments make a huge difference.
"Our listings are syndicated all over the internet. If I post today's photos, the only thing that will attract attention is the Victoria's Secret underwear hanging in the shower!
"Look, it's your choice. You can either get ready to sell or you can get ready to take a beating on your bottom line. I love you but I think I'll save my marketing dollars for now. Call me after your listing expires. In the meantime, here's a tip: Take some digital photos of your own when you get home. See what the camera sees. There's a story there because, after all, like the songs says, 'Every picture tells a story, don't it?'"