Enjoy Real Hawaiian Culture in Hilo
As everyone in Hilo is aware, the Merrie Monarch Festival is soon to be upon us. This year's (the 55th annual), starts on Sunday, April 1 at 9am with the Ho'olaule'a in the Afook-Chinen Auditorium where you can come watch free performances.
For those not in the know, the Merrie Monarch Festival is Hilo's biggest week-long event in which we host hula halaus (special "dance teams") from all over the world to compete and celebrate the purely Hawaiian music and dance. Competitions include modern and traditional dance, men and women, and the very special Miss Aloha single competition.
It's a fierce battle to get tickets to the main competitions. You must request them by December and then there is a lottery system involved. But don't lose heart. The competitions are televised nightly and there are plenty other free events to enjoy.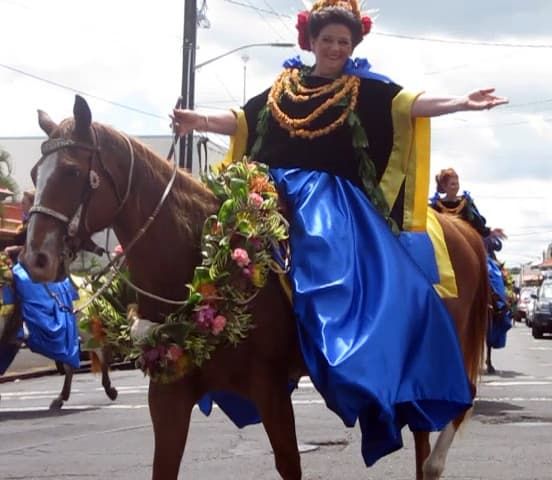 The main free attractions are
Craft fair Wednesday through Saturday in the Afook-Chinen Auditorium;
Parade on Saturday, April 7 at 10:30 in downtown including the royal court from every island (photo above)
Ho'ike performances at 6pm in the Edith Kanaka'ole Stadium
The Ho'ike performances are fantastic but you really need to start standing in line by 3pm to get a good seat. Go with friends and set up a tailgate-style party!
Just a quick history lesson. The Merrie Monarch, for whom the festival is named, is the nickname of King David Kalakaua (born David Laʻamea Kamananakapu Mahinulani Naloiaehuokalani Lumialani Kalākaua). He was the last king to rule over the Kingdom of Hawaii (1874-1891). Known as a convivial and fun-loving person (thus the nickname) who enjoyed music and parties, he is credited for reviving the Hawaiian music, the culture and especially the hula that had been previously banned from public.
His Silver Jubilee (50th birthday party) was especially significant in bringing out all the splendor of the Hawaiian culture with a parade, dance, chants and hula. So, it is in the spirit of his jubilee that Hilo hosts the incredible week long festival.