On a typical week, we usually have at least 4 listings in Hawaiian Paradise Park and other neighborhoods in the Puna district of the Big Island. One of the most defining features of these properties is that they are on catchment water. And we get a lot of questions about these little oddities that seem to be special to our area.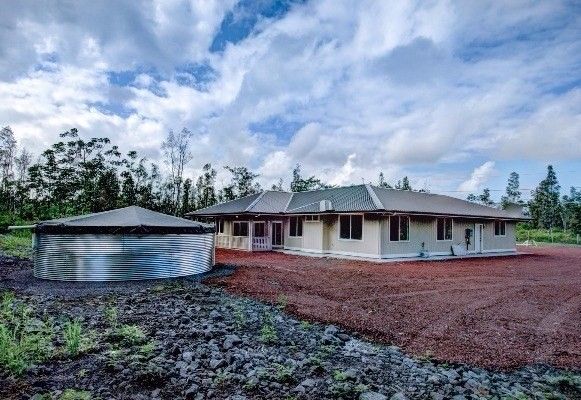 Photo of MLS#606205
For those not familiar, catchment is the collection of rainwater (easily come by here in East Hawaii), usually from off the metal roof of the home. It is funneled into a tank to be used in the home.
Tanks come in all shapes and sizes from the lowly Doughboy pool to the metal cylinder with a mesh cover (in the picture above) to the cement form that is often placed under the home. They typically hold around 10,000 gallons of water and are sufficient to meet the needs of the home.
If you don't plan to drink the water, minimal maintenance and processing is necessary but if you prefer to be able to cook with or drink the water, a filtration system is not only recommended but is imperative. There are several systems to choose from but the UV filtration is considered the gold standard.
People moving here from places without catchment are taken aback at first. Be aware that if you are considering living in the southern regions of the Big Island (or in more rural areas), county water is usually not available. There are a few exceptions such as in Hawaiian Beaches, Hawaiian Parks, Hawaiian Shores, and Hawaiian Shores Recreational Estates, which are on private water. Most lenders (including the VA) have come to decide that catchment is an acceptable water delivery system to qualify for a loan.
Still curious? Here's a good resource to answer just about all your questions. It makes for some wonderful bedtime reading.