A Little Gift from Your Travels
Omiyage (oh-mee-ya-gay)
From the Japanese to mean a souvenir of sorts brought back from any trip to be shared with family, friends or coworkers. Usually it's edible and Japanese stores are filled with single serving options.
In Hawaii, we borrowed the word and custom from the Japanese but it has morphed to mean just about any little gift given for no reason but usually as a souvenir or hostess gift.
It's mid-summer and people are traveling, often off island or to the mainland and people are buying omiyage to take with them on their travels but they are also bringing back omiyage from their travels.
If you are coming back from the mainland, your friends, family, coworkers, neighbors, mailman and maybe even your dog will expect treats from Trader Joe's.
(It's not fair that they kind of steal from our culture but make us go get the tasty takes from the mainland ....as is evidenced in this map.)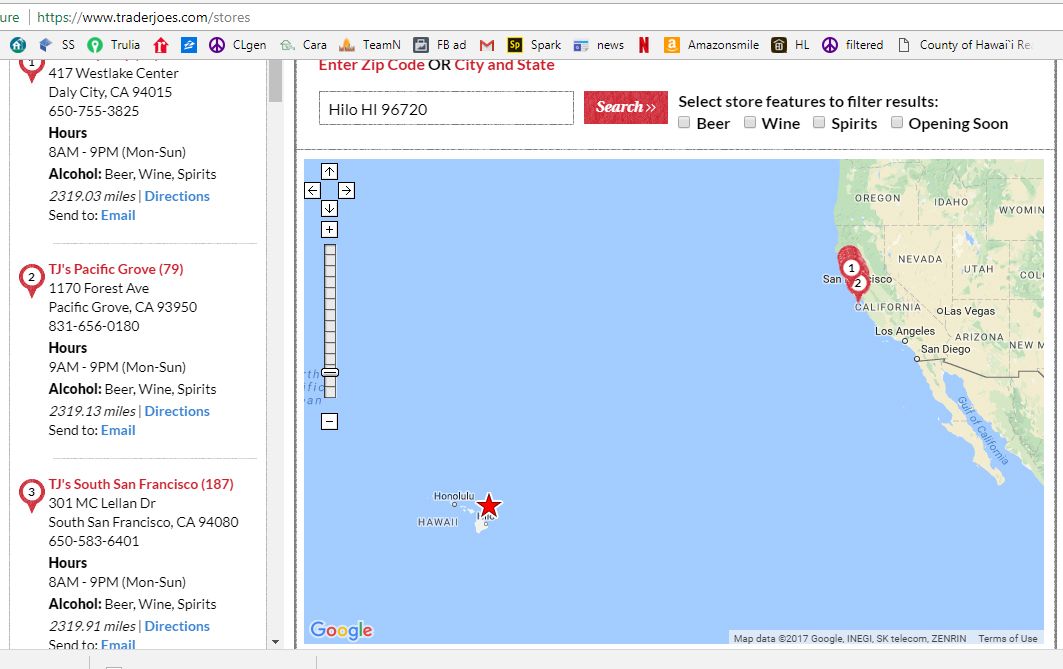 Take an extra suitcase to the mainland and fill it up. The treat doesn't matter as much as the label saying you went to Trade Joe's. The look on the recipient's face will contain a mixture of jealousy, respect and undying admiration as you present him/her with a small bag of Crunchy Nutty Rice Bites. Your're welcome for the tip.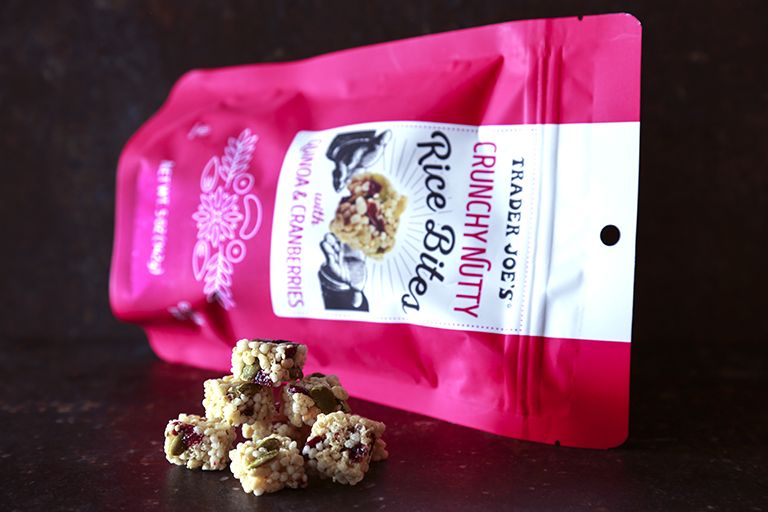 Image from Trade Joe's website
But what about going to the mainland or just to another island? What is something that is purely the Big Island or purely Hilo that might inspire the same excitement? Here are a few suggestions:
Two Ladies Kitchen- A box of assorted mochi is always a crowd pleaser. You can't transport strawberry to the mainland but any other flavor is fair game.
Big Island Candies- Not only are the treats delicious but they have packaging options that I am sure have won awards for beauty. Below is called Fishline in a Box and can be ordered online and sent ahead.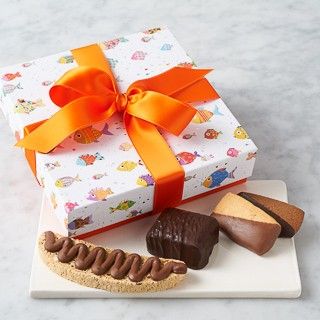 Any assortment of crack seed-It's kind of fun to initiate the island novice with flavors like li hing mui and arare. Bring a bag of kakimochi or jar of furikake and convince your host to try it in popcorn.
Locals slippers-Okay, this one isn't food but, trust me, people on the mainland love getting these purely island shoes.
If you are heading to Oahu, any fruit from the farmer's market is greatly appreciated. You never realized how exciting a papaya can be until you give one to someone living in Honolulu.
Enjoy the rest of your summer and be safe on your travels. And have fun giving and receiving omiyage!